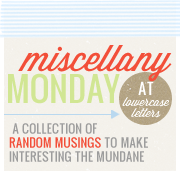 Because it's Monday, and I'm feeling quite Miscellaneous! :)
1. Who knew booking international plane tickets could bring so much stress into my life!? Whew. Layovers and changes and dates, oh my! We're almost done. I can see the finish line! Pressing on...
2. I've started drinking Green Monster Smoothies almost every day. It's basically a fruit smoothie with the addition of spinach (hence the Green). They are so good for you and taste surprisingly like fruit, not spinach. Win-win! :)
3. My sweet adoption buddy
Julie
sent me an amazing can of Godiva Double Chocolate Hot Chocolate. Um, YUM!
4. Our USCIS fingerprints expire in Feburary, and we had applied for the extension long before we received our court date. Our court date is before they expire, but we've been advised to get them done "just in case" and we have learned that lesson well in this adoption. So, we're heading to Charleston this weekend to get re-fingerprinted (how do your fingerprints expire, anyways?! they're just the same as last time, maybe a little older and more stressed out... but still haven't committed any crimes!) and enjoy a little time away while it's still just the two of us. Can't wait!
5. I'm much more relaxed about this second trip than the first. I guess I know more what to expect, since we've been once. The list maker in me is not too excited about this laid back approach, as there is still SO MUCH TO DO!! (So, I'm blogging instead. HA!)
6. We've been total slackers and have been procrastinating getting our Flu Shot and Hepatitis A Vaccine. So we're going to take care of that this weekend. :)
7. My brain feels like a ping-pong ball. Well, I guess it's more my thoughts than my brain; it actually feels much larger than that. There's so many things going on, I can't focus on any one for longer than about 3 minutes. I've stopped 5 times while writing this miscellany and tried to work on something else. AHH! :)
In the meantime, come join the link up fun with Carissa at
lowercase letters
and share your miscellany monday!