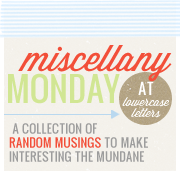 1. I am checking us in for our flight in less than an hour!! AHHH!! So excited!
2. I have "stuff" strung everywhere that I need to try and cram into two 50 pound suitcases. It's going to be a challenge, for sure!
3. I still can't believe in less than a MONTH, Hudson will be HOME! :) We can't wait!
4. We're being featured today over at
Hopeful Threads
! Make sure you hop over to
Kristy's awesome blog
and say hello! And if Kristy sent you this way, please say hi! I'd love to meet you! :)
In the meantime, come join the link up fun with Carissa at
lowercase letters
and share your miscellany monday! How's that for some miscellany?! I'm in travel mode!!!